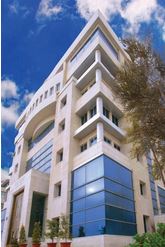 The Talal Abu-Ghazaleh Global (TAG.Global) is the largest global group of professional service firms in the fields of Accounting External Audit, Internal Audit, Corporate Governance, Taxation, Educational Consultancy, Economic and Strategic Studies, Management Advisory Services, Professional and Technical Training, Technology Transfer Project Management, Real Estate Management, Investors and Business Advisory Services, Human Resources and Recruitment Services, E-Government, E-Commerce, E-Education, IT and Security Audit, Web Design, Professional Interpretation and Translation, Website Arabization, Domain Names Registration, ICT Strategic Planning, ERP Consulting Services, IT and Internet Skills Training and Examinations, Intellectual Property News Agency, IP Business and Asset Valuation and Branding Services, IP Registration and Protection, Intellectual Property Renewals, IPR Protection and Management, Legal Services, and Public Offering.

TAG.Global operates out of over 100 offices worldwide.

Operating, in particular, in the Arab region - an area of the world that is experiencing radical and unprecedented change- TAG.Global is well aware of and experienced in all aspects of the regional economic environment, including the social and regulatory factors governing it. We recognize the need to systematically develop Arab institutions in order to build a solid future. TAG.Global is meeting this challenge by providing highly experienced specialists who anticipate economic and social trends and evaluate alternatives to determine the most creative solutions for both present and future challenges.

TAG.Global has acquired an outstanding record of success among its clients, which include important agencies, international and Pan-Arab governmental funding organizations, as well as leading companies in banking, industry, insurance and commerce. We have successfully assisted these clients with complex business and management decisions involving people, equipment, facilities and capital.